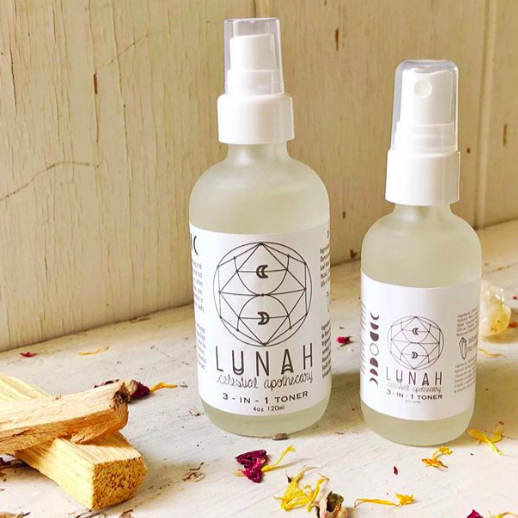 This mist is a must. Carefully curated ingredients purifies and gives an intense moisture boost for dry or mature skin
A blissful infusion of new moon + clear quartz + rose water + palo santo
HOW TO:
Shake before use. To use as a toner, apply after cleansing and before moisturizing. Dab on a cotton pad or spritz face and neck and rub in. Use throughout the day to refresh and rehydrate skin.
USES:
Balancing Toner: A necessary addition to any skincare regime. Toners help to rebalance the skin

Essential oils of Palo Santo, Holy Basil are extremely grounding and nourishing for the adrenal system

Cleanser: No time for your usual cleansing routine? Let a cotton pad absorb some of this goodness and watch it remove excess dirt and environmental damage from the day

Essential Oil Body Mist: Layer with your favourite mists or wear alone. You're sure to be asked what you're wearing

Pre-yoga spray: before your yoga poses and asanas, spray around your spirit and space. Allow this grounding blend to go deep, as you zone in on what matters most

Meditation: spritz around altar and around your crown pre and post meditation to ground your spirit, (un)focus your thoughts, and rebalance your being

Hair Perfume: Gone a few too many days without washing your hair? A little Moon Mist and magic and you're good to go
INGREDIENTS:
Rosa damascena (Rose) Hydrosol, Aloe Barbadensis Leaf Water (Aloe Water), Hamamelis Virginiana (Alcohol-Free Witch Hazel), Leuconostoc/Radish Root Ferment, Rosewood, Distilled Water, Holy Basil and Palo Santo Essential Oil.